I keep track of Perez Hilton's blog more to get Hollywood gossip than anything else, but every once in a while I find it interesting when he looks at lawsuits that make the headlines. Most recently, he pointed out a case where a plaintiff was hurt at trial when her Tweets where used against her:
The jury awarded her $237,000 originally because she claimed her injuries kept her from being able to perform her duties as a hairstylist.

Then the defense attorney found her tweets and presented them to the jury.

On her twitter, she wrote about having an "epic weekend" and partying it up in New Orleans.

She even had pictures of her and her friends having fun on the beach and pictures of her carrying a purse with her broken arm.
This is a great example of what can happen. Where I differ is in the advice that Perez adds:
And now we all are reminded that sometimes we share a little too much on the internet.
This advice is part of the case. The other part is that you have to treat your case and all of the testimony as an important issue where you need to tell the truth. If you say you can't do something, you shouldn't be doing it. Sure there are cases where you can try to do something, but then don't swear up and down that you never did it.
All plaintiffs have to understand that these kinds of stories are fodder for the insurance companies to claim all people making claims are liars. It is an easy way to tamper with all jurors.
If the Tweets, Facebooking, and Pinterest pictures are the truth, you need to make sure you say so in your case.
I am glad these things get covered as reminders, but I hope that everyone gets the correct message.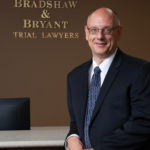 A founding partner with Bradshaw & Bryant, Mike Bryant has always fought to find justice for his clients—knowing that legal troubles, both personal injury and criminal, can be devastating for a family. Voted a Top 40 Personal Injury "Super Lawyer"  multiple years, Mr. Bryant has also been voted one of the Top 100 Minnesota  "Super Lawyers" four times.