They aren't the only ones, but they are a very aggressive insurance company. You are in a collision and they are calling to see if they can settle. Why is that insurance adjuster doing this? This may be the easiest question we have ever answered here at the Legal Examiner. Maybe the insurer wants to take care of you. Maybe they want you to fully recover for all of your damages. Maybe they have your best interests at heart, even if it cost their insurance company more. Maybe not.
Wait. Stop. Think. Do you really think a multi-billion dollar insurance company has your best interest at heart? Insurance companies' profits depend on taking in more in premiums and investments than goes out in payments. The insurance company only benefits if they pay out less.
Maybe they're trained to be nice to keep you from going to a lawyer because they know that will cost them a lot. Maybe it's that the adjusters really know what to say:
– Are they giving legal advice?
– Are they trained to convince people that they really are getting good deals?
– Are they just plain old lying to people?
It's illegal in most states for the insurer to tell you not to go to a lawyer. But it's not illegal to be nice, to pretend they have your best interests at heart.
Many insurers even have a whole different set of adjusters that deal with people who don't have lawyers. 'Unwrapped Units' are trained to deal with these folks, using special training to try to keep people happy. If they get smart and hire a lawyer, their case gets switched to a 'wrapped unit'.
It's amazing how many times we look at these offers and they are woefully inadequate. Occasionally, we see fair offers and we tell people that. We've even had cases where we help them make sure that the health insurance subrogation interests are dealt with and that all of the coverages have been found. If it's a good deal, or even close to a good deal, we tell them.
The reality is that you can hire someone that is on your side and who works for you or you can hope they don't rip you off too much. You can guess what the value of your case is or hire a lawyer that has done this before and knows how to present a case.
Now I do understand that the case is always yours. So if you want to settle and think it's a good deal, go for it. But, it reminds me of the last time I tried plumbing. Took me two days to put in a garbage disposal. Week later, a real plumber came in and got it fixed in about 30 minutes.
At least if you are going to play lawyer for you or your family, spend a little time thinking about who is really being taken care of.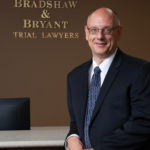 A founding partner with Bradshaw & Bryant, Mike Bryant has always fought to find justice for his clients—knowing that legal troubles, both personal injury and criminal, can be devastating for a family. Voted a Top 40 Personal Injury "Super Lawyer"  multiple years, Mr. Bryant has also been voted one of the Top 100 Minnesota  "Super Lawyers" four times.