It is not unusual for people to come to us after making a attempt at trying to deal with their case on their own. It is a combination of hoping that they are not really hurt that bad and probably being scared that a lawyer is going to take all the money. The reality is that a consultation is free and we do not get paid until the end of the case. Further, once the case is settled, we sit down with you and go through all the numbers so you know exactly what you are going to receive. Considering the amount of time, the expertise, and the fact that you do not pay until the final result, it may be one of the fairest deals you will ever get dealing with any type of professional.
Where we see interesting issues is when the client has spent a lot of time negotiating the case on their own. It is not unusual to find insurance companies that will use the payment of the property damage to extract all sorts of additional items out of the person. They will use that potential payment to:
1) Get statements that are not always helpful.

2) Tie that payment into other payments or non-payments in the case.

3) Talk to the person about how they do not want to get a lawyer that they will have to pay or how they will never meet the thresholds (which is clearly legal advice from a non-lawyer).

4) Scare the person into doing anything other than taking the money.
The level of deceit, misinformation, and simple non-disclosure is staggering. People who represent themselves in many cases are toyed with by the insurance companies and clearly taken advantage of.
I am sure on occasion there is a person who does a good job negotiating their own case and that there are insurance adjusters who clearly think they are getting the person what they deserve. The problem is, it is often the person who is not used to making a claim and dealing with an adjuster who has done thousands of them. That can often be like a Little Leaguer being thrown into the World Series. They may have a lot of talent , but it is simply an unfair playing field.
It is worth taking the time to sit down with an experienced personal injury attorney who can at least explain to you your options. Early negotiation can harm the case and often lock the insurance company into a position that will take a trial to knock them out of.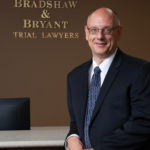 A founding partner with Bradshaw & Bryant, Mike Bryant has always fought to find justice for his clients—knowing that legal troubles, both personal injury and criminal, can be devastating for a family. Voted a Top 40 Personal Injury "Super Lawyer"  multiple years, Mr. Bryant has also been voted one of the Top 100 Minnesota  "Super Lawyers" four times.