Recently, here at the Injuryboard there was a very interesting topic about the selling of a structured settlement by Hank Didier:
The Top 5 Mistakes People Make When Selling Their Structured Settlement or Annuity,Hank Didier | November 09, 2011 9:03 AM
This is a very good place to start.
It was particularly timely with a story, in this past Sunday's Minneapolis Tribune that looked at a local case of a young woman who, for various reasons, has been selling parts of a structured settlement she had that was meant to take care of her for life.
As identified in the story she has been involved in the following transactions:
Over two years, Tasheeka Griffith tried five times to sell payments from her structured settlement for lead poisoning she suffered as a child. Here's a look at the result of her requests, in which she ended up selling $351,904.88 in payments in exchange for $77,089.29 cash.

May 2008: Griffith applied in Hennepin County District Court to transfer $96,000 in future payments to Henderson Receivables in exchange for $47,481. District Judge Mel Dickstein denied the transfer, concluding that it was not in her best interests. "The cost of Ms. Griffith's request is so great that it diminishes her future ability to care for herself and her child," the judge said.

August 2008: Griffith applied in Dakota County to transfer $82,210.48 in future payments to Seneca One in exchange for $30,544.42. District Judge Robert King approved the transfer the following month.

December 2008: Griffith and Seneca One filed a new petition in Dakota County proposing the transfer of $91,200 in future payments in exchange for $20,264.87. District Judge Karen Asphaug denied the transfer, saying it would "undermine her long-term economic well-being."

July 2009: Griffith filed an application in Hennepin County District Court with RSL Funding proposing the transfer of $269,694.40 in future payments in exchange for $46,544.87. District Judge Charles Porter approved it after asking Griffith's attorney, James Martin, "Any reason you think I should not sign the order?" Martin responded that he explained the ramifications of Griffith's sale "and she has been very clear to me she wishes to do this."

August 2010: Griffith, again with RSL Funding, requested the transfer of $299,000 in future settlement payments in exchange for $19,000. Dickstein halted the transfer and appointed guardian ad litem Kimberly Lowe to begin an investigation. RSL Funding later withdrew its petition to transfer.
The exchange seems at best questionable and may be unconscionable. We from time to time get contacted by individuals who want representation in selling past structures. My opening advice is always not to do it. But as can be seen with this case, it may not always be that easy. Life's expenses may make it one of the only options.
The Minnesota Legislature has looked at these transactions in the past and did pass the need for judicial approval with additional independent legal advice, as compared to the past when people were unprotected in these exchanges.
While I never lose sight of the underlying truth that it is the client's money to do with as they choose, it is important to keep a very close eye on the type of exchanges that they are being offered. Minnesota would also benefit from requiring that the judge be told of the whole history of past sales and attempts to sell to insure that all of the necessary information is out on the table.
In many cases, because the case is over and the money has been disrupted, those clients who may have had excellent representation to that point are all alone. We do our best to let clients know that we are still available and would be happy to still help. The fee has already been paid with the case, so it is worth taking advantage of the consultation. Most of all, the advice of Mr. Diedier would be worth pointing out.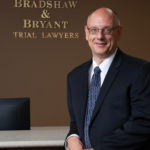 A founding partner with Bradshaw & Bryant, Mike Bryant has always fought to find justice for his clients—knowing that legal troubles, both personal injury and criminal, can be devastating for a family. Voted a Top 40 Personal Injury "Super Lawyer"  multiple years, Mr. Bryant has also been voted one of the Top 100 Minnesota  "Super Lawyers" four times.