This month, we we were looking at the issue of talking to the adjuster over at the Minneapolis Blog. Here is the overall blogs:
It is not unusual for insurance companies to have specific adjusters who are hired to speak with unrepresented people. Clearly, this is being done to save the company money and minimize their liability.
Giving the adjuster a statement can be dangerous because they ask a number of questions purely to minimize their liability. They successfully accomplish this by having a conversation and gaining the person's trust through light banter. Then, a strategic set of questions are used in order to create fault often where there is none. Being asked questions regarding speed, lookout and opportunity may seem innocent, but when skillfully asked and vaguely answered, they have accomplished their goal of changing the overall nature concerning follow up in the case.
Telling you that you do not need an attorney or that an attorney is going to take most of the money is legal advice. It feeds on the exact type of doubt that they take advantage of. With the consultation being free, there is no reason that a consultation with an attorney should not be utilized to best protect you and your family.
Why do they want to take a recorded statement? Because they want to lock you into a story which they can control. When asked to give a statement, ask if they will provide you with a statement of the defendant driver or if they will put in writing that the defendant driver is 100% at fault. See what reaction you get and this will answer many questions for you as to what they are really trying to do.
Is the offer they are making fair? Ask them to put in writing a guarantee that the money being offered is a fair and just settlement. See what reaction you get. Ask them for comparisons to other settlements that they have made in writing. See what kind of reaction you get.
If the adjuster is giving you advice concerning what coverages you have and what they mean, they are most likely giving you legal advice. Ask them if they are your lawyer in the case or if they are representing you. Ask them if every single coverage has been reviewed and if there are other policies you should be asking about. It is not unusual, through diligent investigation and knowledge of Minnesota law, to find that there are policies that they either did not tell you about or "simply forgot." The key may not be as much how they answer the question as much as if they answer the question.
Is the adjuster contacting you a lot? This is a regular tactic they use in order to wear people down and take advantage of them at a time when they are in most need of wage loss or have the biggest concern about their bills. It is an excellent time for them to move in and take advantage of you. Do not be fooled by this aggressive behavior.
Are they being fair about your property damage? Often we will see that there will be offers on the property damage that are based upon inaccurate comparisons, unfair review of fault (liability), and/or significant additional subtractions for mileage or prior damage. This is an early indication of how they are going to be treating you throughout the whole case. The question is, how deep do you get into negotiations before you bring in somebody who can help you make a difference? It is worth taking the time to get the right advice.
Are they trying to settle your children's case without judge approval? Minnesota statutes require judge approval for any settlements concerning minors. Consequently, if they are making offers to get the "kids a little money," they are not really settling the case with the child. Some companies have attempted to use complicated release forms that allow the child to come back and sue the parent if they are unhappy with the deal that was made. There are significant questions on whether these would stand up, but it is clear that a judge should be involved and the money should be put away for the children until they are 18.
Are they offering unfair structured settlements? Some companies will use internal structured settlements to look like they are offering people more money. Often the problem is that by being internal, they are keeping the money and they are not looking for the best rates on what they are selling you. I have found many cases where going to the right person to review the structured settlement can make the difference in hundreds, if not thousands of dollars. Further, it gets to the bottom of whether or not a structure that is being offered is laid out in a manner that makes the most difference in helping you deal with your injuries.
How are they putting a value on the offer they give you? Often, we will see people come in with $500.00 or $1,000 offers. These offers are meant to get you quick, easy money but rarely satisfy what your damages are. In Minnesota there are what is called tort thresholds. If you do not meet a threshold, then you do not have a claim for pain and suffering. Consequently, the money that they pay you would basically be money you would never be able to receive under a lawsuit. But, if you meet a threshold, that money is woefully inadequate in many cases. The research done out there suggests that people who are not properly represented get about 1/3 of what the people who are properly represented receive. Taking the quick, sometimes easy money is probably putting yourself in that first category.
Is the adjuster talking down your case? Is the adjuster pointing out reasons why you are at fault? Reasons why you will not be able to recover under Minnesota law? Reasons why you cannot claim your injuries are due to the accident? All of these are examples of the adjuster practicing law. They are giving you legal opinions about how the facts apply to the law. They are not lawyers and most importantly they do not represent you.
If you, your family, or someone you know is in an accident, it is worth taking the time to sit down and talk to an experienced law firm with success in helping people who are injured through no fault of their own. The consultations are free and it allows you to figure out what rights you have after an injury.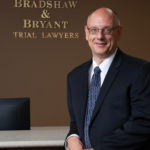 A founding partner with Bradshaw & Bryant, Mike Bryant has always fought to find justice for his clients—knowing that legal troubles, both personal injury and criminal, can be devastating for a family. Voted a Top 40 Personal Injury "Super Lawyer"  multiple years, Mr. Bryant has also been voted one of the Top 100 Minnesota  "Super Lawyers" four times.