The Minnesota Department of Transportation (MNDOT) is proposing a radical new interchange design for the St. Cloud area. The St. Cloud Times reports MNDOT will spend $17.5 million to build Minnesota's first "Diverging Diamond Interchange" to relieve traffic at the busy intersection of Minnesota Highway 15 and County Road 120 near Hennen's, WalMart and Healthpartners.
The design requires east and west bound traffic lanes to weave to the left of each other on the bridge, and then back. The gets rid of dangerous and time-consuming left turns in front of oncoming traffic by routing all traffic in front of oncoming traffic. The design, first used in France, came to the U.S. when Missouri built one in 2009.
MnDOT's District 3 project engineer Claudia Dumont acknowledged it will take some time for drivers to get used to the new design. But she's confident the interchange will improve safety and efficiency.

…

Converting the entire Highway 15 corridor through St. Cloud to a freeway carries a price tag of more than $300 million, so it's not likely to happen even in the next 20 to 30 years, Dumont said.

…

Dumont acknowledged that the new interchange may feel strange at first. Like the roundabouts built in the St. Cloud area recently, "there's going to be a little bit of a learning curve," she said.
My partner, Mike Bryant, has written numerous articles about the new roundabouts popping up all over Minnesota, and the resulting problems and issues.
The videos below illustrate the divergent diamond concept, but be forewarned, supporters say looking at it from the air is more confusing than driving through one.
Wow, confusing is right! Here's one with the freeway over the top:
Is this better?
Hopefully the planners are right, and this will reduce car crashes while moving traffic.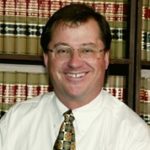 As a partner with Bradshaw & Bryant, Joe Crumley has over 20 years experience with the firm—helping injured people and their families to secure just and fair compensation. Excelling in personal injury litigation, Mr. Crumley has secured numerous record-setting verdicts and settlements and won accolades such as MTLA's "Trial Lawyer of the Year" and "Excellence" Awards.