There is a Minnesota Orthopedic Surgeon, Lance Silverman, M.D. who I recently met who has a wonderful blog that I have been following for a couple of months. What a great source of information for injuries to the feet. You may ask: "How good could it be?"
Well if you are a sports fan, it is a great place to find out what the injuries to individual stars mean. I found the blog about Percy Harvin's sprained ankle helped in explaining why he hasn't been playing. I have noticed an article like this with many of these injuries since.
For women, or I guess guys who are interested, he recently covered the problems that come with wearing high heels. How the shoes themselves are causing some of the injuries.
For those up here in the wintry North, he took a look at the reasons for most winter foot injuries and how to prevent them.
Finally, to the heart of what he does with surgery, he took a look at having crutches while you are on ice. It is a clear sign of someone who knows a lot about his field and has a lot to share.
It's one of those sites that is worth having bookmarked.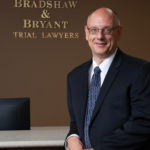 A founding partner with Bradshaw & Bryant, Mike Bryant has always fought to find justice for his clients—knowing that legal troubles, both personal injury and criminal, can be devastating for a family. Voted a Top 40 Personal Injury "Super Lawyer"  multiple years, Mr. Bryant has also been voted one of the Top 100 Minnesota  "Super Lawyers" four times.