There are a couple of issues of late that have me thinking about safety with concern to police safety. A study from the Journal of the American Medical Association had some startling findings:
Of the 4,957 participants, 40.4% screened positive for at least one sleep disorder, most of whom had not been diagnosed previously. Of the total cohort, 1,666 (33.6%) screened positive for obstructive sleep apnea, 281 (6.5%) for moderate to severe insomnia, 269 (5.4%) for shift work disorder (14.5% of those who worked the night shift).,
There is no question that sleep is an important part of each of our lives. You need enough sleep to maintain your health, stay alert, and to handle complex tasks. The jobs that we entrust police with can be heightened by the need to be ready and affective.
The report went further to say :
26 percent of the officers reported that they fall asleep driving at least once a month because of excessive drowsiness.
This is a danger that we need to take a good hard look at. Just as important is to make sure that we have the police available.
Not that long ago, I looked at the concerns that were going on with the Foley Police department. The second shoe has now dropped as the Benton County Sheriff department has had to layoff 3 employees. The St Cloud Times recently published a letter from James J. McMahon Sr. Benton County commissioner which explains the issue and the problems.
This is another problem that seems to be money over safety. We need to make sure the protection exists to continue to make our society safe. Hopefully, it won't be a tragedy that teaches the lesson.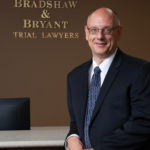 A founding partner with Bradshaw & Bryant, Mike Bryant has always fought to find justice for his clients—knowing that legal troubles, both personal injury and criminal, can be devastating for a family. Voted a Top 40 Personal Injury "Super Lawyer"  multiple years, Mr. Bryant has also been voted one of the Top 100 Minnesota  "Super Lawyers" four times.