There has always ben a lot of talk about texting and driving. As time passes, we have more examples of really how dangerous it is. Injuryboard member, Pierce Egerton, recently looked at the topic again:
Survey: Texting & Driving Only Dangerous If . . ., Pierce Egerton | October 08, 2011 6:46 AM
It's dangerous and I would guess there are always people who say "we get it". But , do they? Fairwarning pointed out a study that suggests that texting can double the reaction time of a driver.
What's more, drivers who were texting were 11 times more likely to altogether miss the flashing light.

For a driver cruising at 60 mph, two extra seconds of reaction time means it takes 176 more feet to stop or maneuver the car.

Or, as U.S. Transportation Secretary Ray LaHood said in a statement responding to the study: "If you look down to text for just a few seconds at 55 miles per hour, your car travels the length of a football field while you're not looking at the road. Texting and talking on the phone while driving can be deadly, and drivers have a responsibility to put away these distracting devices every time they get behind the wheel."
This kind of information needs to be understood. I hope that the more they read, the message will get through :
Driving While Distracted? It Causes Deaths. Mike Bryant | August 18, 2011 9:52 AM
Want to Text and Drive? Watch this First., Mike Bryant | July 11, 2011 9:19 AM
Real Life Reasons Not to Text and Drive, Mike Bryant | April 26, 2011 9:37 AM
Texting – More Deadly than Drunk Driving?, Joe Crumley, September 22, 2009 7:01 AM
Study Shows Texting While Driving Highly Dangerous, Rick Shapiro, July 29, 2009 8:00 PM
Texting By Drivers Proven to Be Extreme Hazard, Mark Williams, July 28, 2009 5:41 PM
Ignoring the Dangers of Texting While Driving May Lead to Serious Consequences, Will Parker July 30, 2009 4:53 PM
Texting and Driving – More Deadly than Drinking and Driving?, Jeremy Thurman, September 20, 2008 3:18 PM
Stay alive and drive when you are behind the wheel.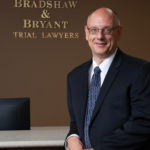 A founding partner with Bradshaw & Bryant, Mike Bryant has always fought to find justice for his clients—knowing that legal troubles, both personal injury and criminal, can be devastating for a family. Voted a Top 40 Personal Injury "Super Lawyer"  multiple years, Mr. Bryant has also been voted one of the Top 100 Minnesota  "Super Lawyers" four times.