We've all been in this situation: you're driving along, using your blinkers and checking your blind spots and behaving in a generally exemplary manner, when your cell phone buzzes. A crisis materializes. You know that you shouldn't check it. You know that the road requires your complete and undivided attention, and you certainly know that you would never recommend this to your children. But still – it would only take a second. And anyway, is it really that dangerous?
Yes. And even worse, Anderson Cooper may catch you:
http://www.youtube.com/watch?v=kd0acDRFEMY
Alright, so it's dangerous. But, for argument's sake, what's worse: driving while texting, or driving under the influence?
To answer this question, we first need to compare drunk driving to driving while talking on a cell phone. In 2004, researchers at the University of Utah conducted a three-staged experiment: first they placed participants in a simulated course without any sort of distraction, then they gave participants handheld wireless devices and told them to do it again, and then, in probably the most fun part of the day, they gave the participants some vodka with orange juice and then told them to drive the course one last time. The results were unequivocal. Driving while on the cell phone was at least as dangerous as drunk driving, and caused just as many accidents.
More recent investigations have examined the effects of texting on driving. Although a recent article from the New York Times estimates that texting increases the risk of collisions by 23 times, a study from Virginia Tech scales that figure back, finding the risk to be just 2.8 times higher. Still, that's a considerable increase. To put it in perspective, the same study found that a talking on a cell phone only increased the danger by 1.3 times. Considering that drunk driving and driving on the cell phone are equally dangerous, we find a surprising answer to our original question. Texting while driving isn't just as dangerous as drunk driving – it's twice as bad!
That's why several states are outlawing texting on the road. Minnesota passed legislation banning the activity in August 2008. Similar proposals are making their way through the Tennessee legislature. Minnesota Senator Amy Klobuchar is backing a nationwide texting-while-driving ban.
Contact a lawyer in your state to learn about local restrictions.
Or, even better, just don't pick up the phone.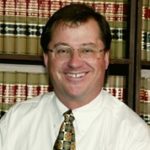 As a partner with Bradshaw & Bryant, Joe Crumley has over 20 years experience with the firm—helping injured people and their families to secure just and fair compensation. Excelling in personal injury litigation, Mr. Crumley has secured numerous record-setting verdicts and settlements and won accolades such as MTLA's "Trial Lawyer of the Year" and "Excellence" Awards.