Seems like Twitter is everywhere. There are celebrity races to the greatest number of followers, marketing get rich tweets, and even the lovely 104 year old English woman, Ivy Bean, who tells us about her day. Injuryboard member, Jeff Rasansky, has great advice on how not to tweet your case away. I've been following about 1900 people and being followed by somewhere around 1500. Mostly, to highlight blog posts and to catch up on the happenings of the day.
There has been the Tony La Russa lawsuit which covered made up tweets. Also questions about what constitutes a good or bad tweet. I was especially interested while the state legislature was in session and you would get updates as to what bills were up and what people were saying about them. Between the Democrats on facebook and the Republican floor tweets there was a new access that didn't exist a couple of months ago.
The ethics question came up recently in the State House when Rep. Tom Emmer (R-Delano) and Rep. Mark Buesgens (R-Jordan) accused Rep. Paul Gardner (DFL-Shoreview) of breach in decorum through tweets that suggested Woody Allen comparisons to Buesgens and that Emmers was a bully. The House ethics committee responded unanimously that Gardner make an oral apology to the House "at the earliest possible date." The statement goes on to say, Gardner "did not exercise sound judgment by making statements about his colleagues that were not respectful and courteous and he did now show respect to the House of Representatives."
Nationally, Sen. Chuck Grassley (R-Iowa), joined the political tweet discussion with direct statements meant for traveling President Obama. "Pres Obama you got nerve while u sightseeing in Paris to tell us 'time to deliver' on health care. We still on schedule/even workinWKEND," This tweet and a couple of others have the same propriety questions being asked nationally that the Minnesota House was looking at.
The end of the session has legislators telling us about their visits to the cabin, fishing trips, days golfing, and a recent questionable favorite " A great weekend at the lake topped off with a great steak and a big Cabernet at home. I wish the weekend could last another couple (days)" I wonder if all of his constituents are enjoying that freedom?
It seems to me that tweets have the potential to be great ways to get information out, but at the same time, some of this should be looked at as if it's something you would put on a billboard, because someone might just do that to you.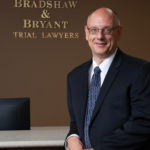 A founding partner with Bradshaw & Bryant, Mike Bryant has always fought to find justice for his clients—knowing that legal troubles, both personal injury and criminal, can be devastating for a family. Voted a Top 40 Personal Injury "Super Lawyer"  multiple years, Mr. Bryant has also been voted one of the Top 100 Minnesota  "Super Lawyers" four times.