Wednesday night, a SUV rolled after leaving northbound Hwy. 169, north of Garrison. The driver and a passenger where injured. The driver told the State Patrol that a deer caused the incident. Initial reports are that alcohol was detected on the driver. The passenger was taken to the St Cloud Hospital.
While there is no liability claim for the driver of the car, passengers may still have a claim for liability depending on the facts of the collision. It is important that these case be investigated early by an Attorney who does this type of work. Hopefully, both of these people will heal up quickly.
The Minnesota Department of Traffic Safety's "Crash Facts 2007" indicated that there were 3,144 vehicle-deer accidents reported last year with 336 injuries and six fatalities.
The Duluth News Tribune recently published some helpful suggestions:
Rule 1: Treat every deer as if it's going to cross in front of you. If you assume a deer feeding on the shoulder is going to hold its position until you have gone by, you're just an accident waiting to happen.

Rule 2: Drive according to the conditions. If the night is foggy, rainy, or slippery, you might not be able to prevent a collision, but you can minimize the damage if you're driving slowly enough. Don't just speed along and hope nothing gets in your way.

Rule 3: Keep your eyes on the road at all times. You may only have a second or two to react to a deer crossing the highway. If you're not an attentive driver, you can get hurt.
Questions as to what happened in this case will need to be answered.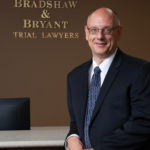 A founding partner with Bradshaw & Bryant, Mike Bryant has always fought to find justice for his clients—knowing that legal troubles, both personal injury and criminal, can be devastating for a family. Voted a Top 40 Personal Injury "Super Lawyer"  multiple years, Mr. Bryant has also been voted one of the Top 100 Minnesota  "Super Lawyers" four times.