This is a topic we have been talking about over at the Minneapolis blog. Here is the series in the entirety:
This month, we will be looking at the issue of what claims are available in a Minnesota collision. We have used real examples from stories in the recent news as a basis for the discussion. What claims are available is not always obvious and a very good reason why you should take advantage of meeting with an experienced personal injury lawyer to understand all of your coverages. The insurance company may seem to be treating you correctly, but they don't represent you. They also are not lawyers, so don't take your legal advice from them.
An ambulance has a collision with a garbage truck in Cambridge. It is reported that the individual being transported and the ambulance drivers are injured. We will start with the bills. The individuals who are working (ambulance and garbage truck) will be looking to worker's compensation as being primary. The person in the ambulance will be looking to their no fault coverage first. If they don't have no fault then it will depend how the ambulance is registered. Under Minnesota law, it may not be a motor vehicle. They may be looking to the garbage truck for the coverage it has. Finally, they could end up looking to the state fund. As for liability, it will depend on who is at fault for the collision.
A school bus is in a collision with a semi truck in Roseau. Eight children are taken to the hospital for care. For medical coverage, the children will each first look to the coverage they have through their families' insurance policies. The drivers will first look to worker's compensation. If the semi is at fault, the no fault carriers for the children will be able to make a claim for reimbursement for what they have paid. For all of the involved minors, any settlement would have to be approved by a judge.
A man is hit by a car as he rides his motorcycle. The medical bills will be paid by the medical insurance that the man has. Since it's a motorcycle, which isn't a motor vehicle under the no fault act, he will need to have either purchased special additional coverage or look to his health insurance. If the car is at fault and he makes a pain and suffering claim, he will not have to meet the thresholds that need to be met if no fault is involved.
An Iowa student is killed in a collision in Minnesota. As an interstate case, there will be questions about what car the person was in. If they are in a Minnesota injured car, the family will be able to make a claim for Minnesota benefits. If no fault isn't available, there won't be any concerns about the threshold applying.
Minnesotans are in a collision in North Dakota. No fault benefits will apply for the Minnesotans. If there is a double recovery in the claim against the defendant, the No Fault company will be able to make a claim to get their money back. North Dakota statute of limitations will apply to the claim against the defendant.
A six year old boy is hit by a car at the airport as he goes to his father that has arrived from Iraq. The child will look to his family's auto insurance for no fault coverage. It is suggested that the driver of the car had been drinking. There may be an additional claim against a bar if the driver was obviously intoxicated and was served. As a minor, any settlement would have to be approved by a judge.
Three car collision on an icy bridge in Clearwater. Each person injured will turn to their own auto insurance policy for their medical claims. If they don't have personal coverage, they will receive coverage from the car they are in. As for liability, a lot will depend on what the investigation shows as far as fault goes.
An out of state teen driver runs a stop light and hits three other cars in Redwood Falls. The medical bills will be paid through no fault for all the Minnesotans with auto insurance. The out of state policy will be looked at for liability and will need to be at least $30,000 or the vehicle will be considered uninsured in Minnesota. If uninsured, each of the passengers will look first to the vehicle they are in for coverage. They will be able to receive additional UM coverage only if they have greater personal coverage than the car they are in. For those in the teen's vehicle, even if they are relatives, they will be able to make a claim for liability coverage.
A deer causes a three vehicle collision in Bemidji. Personal no fault will apply for each person hurt. If they don't have their own coverage, they will look to the car they are in. The Deer, while playing a roll in the collision, does not carry any coverage. In these types of cases, early investigation will be needed to look at speed, look out, and why everything happened.
Wrong way driver on I-94 causes head-on collision. Each person injured will be able to get their medical bills paid for under their own no fault policy. The reason for why the person was on the wrong side of the road will be important. Were they drinking and does there need to be a dram shop investigation? What, if anything, could the other driver do to have avoided the collision?
A woman is injured when she crossed the center line and hits a semi in Aitkin. Even if the woman is at fault, she will still have a claim for no fault benefits. The no fault system is set up to take care of medical claims and wage loss no matter who is at fault. The use of no fault cannot be used to increase your rates.
The stories that are used are just examples. Each case is different and it is important to make sure that you get individual advice for any collision you are involved in. For each of those who were injured in the examples and for the the family and friends of those who were killed, our hope goes out that you are getting the medical and emotional help that you need.
If you, your family, or someone you know is in an accident, it is worth taking the time to sit down and talk to an experienced law firm with success in helping people who are injured through no fault of their own. The consultations are free and it allows you to figure out what rights you have after an injury.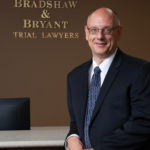 A founding partner with Bradshaw & Bryant, Mike Bryant has always fought to find justice for his clients—knowing that legal troubles, both personal injury and criminal, can be devastating for a family. Voted a Top 40 Personal Injury "Super Lawyer"  multiple years, Mr. Bryant has also been voted one of the Top 100 Minnesota  "Super Lawyers" four times.