If you were like me, you picked a place north or south of the Twin Cities. Like me, you would have been wrong. As I recently learned from KNSI:
State safety officials say Hennepin County may have a smaller deer population than more rural counties in Minnesota, but it has many more people behind the wheel. The county had 508 collisions with deer from 2009 to 2011.
Yep, the county of Minneapolis has the most car-deer collisions.
The second most is in Sherburne County, with 484 crashes from 2009-2011.
Now there could be reporting issues or even cases where a deer hit in the cities is less likely to be taken home.
Just last week I was driving to a meeting in Minneapolis when a deer shot across the road in front of a car further up on Highway 55 in Golden Valley. That deer made it across, but I'm sure most city drivers aren't expecting that kind of road hazard.
Of interest on the topic was a Youtube video that recently went viral:
http://www.youtube.com/watch?feature=player_embedded&v=CI8UPHMzZm8
So take the time to keep in mind deer safety tips no matter where you are driving:
Motorist Safety Tips for Deer:
• Drive at safe speeds, be buckled up, and be prepared and alert for deer.
• Don't swerve to avoid a deer. Swerving can cause motorists to lose control and travel off the road or into oncoming traffic. The best defense is to buckle up and brake.
• Don't count on deer whistles or deer fences to deter deer from crossing roads.
• Watch for the reflection of deer eyes and for deer silhouettes on the shoulder of the road. If anything looks slightly suspicious, slow down.
• Slowdown in areas known to have a large deer population; where deer-crossing signs are posted; places where deer commonly cross roads; areas where roads divide agricultural fields from forest land; and whenever in forested areas between dusk and dawn.
• Deer do unpredictable things. Sometimes they stop in the middle of the road when crossing. Sometimes they cross and quickly re-cross back from where they came; sometimes they move toward an approaching vehicle. Assume nothing. Slow down; blow your horn to urge the deer to leave the road. Stop if the deer stays on the road; don't try to go around it.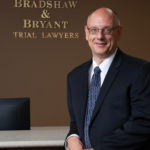 A founding partner with Bradshaw & Bryant, Mike Bryant has always fought to find justice for his clients—knowing that legal troubles, both personal injury and criminal, can be devastating for a family. Voted a Top 40 Personal Injury "Super Lawyer"  multiple years, Mr. Bryant has also been voted one of the Top 100 Minnesota  "Super Lawyers" four times.