From time to time, I look at other lawyer's ads from around the country. It was an article in the St Peterburg Times that got me looking at what is being done by Culpepper and Kurland.
http://www.youtube.com/watch?v=KPYMFnin-JM&feature=youtube_gdata_player
The describe it as:
"Frankly, a lot of times you see an attorney and it's blah, blah, blah … you don't even remember who's talking," said Culpepper, a Florida native and former defensive tackle for the Tampa Bay Buccaneers. "We get all kinds of responses to the ads. But I tell you one thing: People notice them."
So basically it's a way to ride the "get a lot of hits on youtube for weird stuff" wave. Which as the article points out is different than the old stuffy lawyer ad, but I've got to ask: "What do clients think?"
I'm sure they get talked about, but what in the ad is what a real life client who is looking for help with real issues like wage loss, medical bills, and getting their life going to think about this kind of thing? Does it attack clients who have the needs or some type of client who finds it neat to have a claim? Or to be able to say: "Hey, look that's my lawyer having a laugh"
We advertise through a number of media and would be happy to hear from people who don't like what we do. My intent is to get information out there and to educate the public about their rights. It is to get paid, but who out there works for free (actually we do sometimes, but that is for another blog)?
It will be worth seeing how these ads turn out and seeing if they are doing the same ones in a couple of years.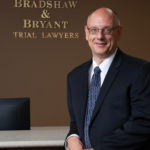 A founding partner with Bradshaw & Bryant, Mike Bryant has always fought to find justice for his clients—knowing that legal troubles, both personal injury and criminal, can be devastating for a family. Voted a Top 40 Personal Injury "Super Lawyer"  multiple years, Mr. Bryant has also been voted one of the Top 100 Minnesota  "Super Lawyers" four times.