When a case gets put into suit, there are a number of things that need to be done which are part of what is called discovery. It's both side's chance to learn more about the inside of the case. This is usually interrogatories or written question and answers, the exchange of documents, and depositions , which is the face to face questioning and answering of parties, experts, and other witnesses.
All of the discovery is done under oath and is a vital part of what is required to make sure the system works right. At our office, we point out the importance of making sure the answers are correct. We also stress the vital role the truth plays in the process.
A disturbing example of faulty discovery was done in Toyota rollover cases. We are talking about cases that have tried to a verdict, been settled , and in some cases were dismissed. One of their former attorneys, who managed the electronic documents discovery, admitted that Toyota destroyed engineering and testing evidence relevant in more than 300 suits over sport-utility vehicle rollover accidents.
Why did they get rid of evidence? My guess would be it wasn't because it helped their case. The question is what should be done about it? I would suspect that many courts will be reluctant to reopen long closed cases. In the past Toyota was fined $139,000 once before for these types of practices and if this is true, it apparently did no good.
Here are some great articles from members of the Injuryboard covering these same issues from the various perspectives:
Car Accident Injury Client: What Makes the Case Good or Bad? (The Collision & Medical Care) , Rick Shapiro September 16, 2009 9:38 AM
Being a Client: More Tips To Help Improve Your Case If You've Been In An Car Accident , Devon Glass , September 17, 2009 8:39 AM
Presumed Guilty: How to Avoid Having Insult Added to Injury When You've Been Hurt in a Car Crash, Pierce Egerton , September 18, 2009 4:28 PM
What To Do After An Accident When The Adjuster Is There First, Mike Bryant, September 19, 2009 6:26 PM
What Questions Is The Lawyer Going To Ask Me At The Initial Interview For My Injury Or Death Case?, Wayne Parsons , 20 September 2009 12:01
What To Do After An Accident When The Adjuster Has A Tape Recorder, Mike Bryant , September 23, 2009 10:01 PM
Do I have a good or a bad case?, Devon Glass, September 24, 2009
Interrogatories: A Written Deposition , Devon Glass, September 30, 2009
How Do You Value Your Case? Mike Bryant October 03, 2009 9:29 AM
Demystifying Injury Litigation for Clients: What Are Interrogatories?, Rick Shapiro ,October 3, 2009
Demystifying Injury Litigation: What Is a Deposition and How Do I Get Ready for It? Rick Shapiro | October 21, 2009 10:34 AM
How Does An Injured Person Describe Their Injury To Doctors, Lawyers and Their Family?(2); Wayne Parsons | October 22, 2009 3:45 AM
I was in an automobile accident. What should I do? Ten Tips For Hawaii Drivers, Wayne Parsons on September 14, 2009 – 3:59 AM EST
What's the big deal with my deposition? Devon Glass, October 22, 2009
Why Is The Insurance Company So Friendly To Me?, Mike Bryant , October 25, 2009 11:39 AM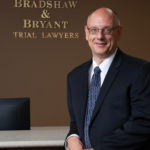 A founding partner with Bradshaw & Bryant, Mike Bryant has always fought to find justice for his clients—knowing that legal troubles, both personal injury and criminal, can be devastating for a family. Voted a Top 40 Personal Injury "Super Lawyer"  multiple years, Mr. Bryant has also been voted one of the Top 100 Minnesota  "Super Lawyers" four times.