The Association of European Motorcycle Manufacturers (ACEM), with the support of the European Commission and other partners recently released the Motorcycle Accidents In Depth Study (MAIDS). The study of motorcycle and moped accidents was completed during the period of 1999-2000 in five sampling areas located in France, Germany, Italy, Netherlands and Spain and covered a total of 921 accidents.
The study found that just over 50% of the motorcycle accidents looked at were caused by other drivers, with 69% of those resulting from 'perception failure' which can include not seeing the rider, misjudging distances and space on the road. Pat Hahn from the Minnesota Department of Public Safety's Office of Communications and author of Ride Hard, Ride Smart: Ultimate Street Strategies for Advanced Motorcyclists and How To Ride A Motorcycle: A Rider's Guide to Strategy, Safety and Skill Development
suggests that in the United States the numbers aren't that high."While the MAIDS information is valuable to riders around the world, it's important to keep in mind that in the US, other drivers are not the biggest cause of motorcycle crashes," he says. According to Hahn, about half of all crashes nationwide are single-vehicle crashes in which no other driver is involved. And of the remaining half that do involve other drivers, both parties share the responsibility for the crash. Other drivers really only directly "cause" about 25 percent of motorcycle crashes.
One of the recommendations that came out of the study was a suggestion that riders' wearing an Orange $20 vest can increase their visibility. A Monash University (New Zealand) study found that riders who wore a fluorescent/reflective vest were 37 percent less likely to be involved in a multi-vehicle crash. The Minnesota Department of Public Safety, in conjunction with the Minnesota Motorcycle Safety Center, has a website promoting and encouraging rider visibility called High-Viz.
With the increased numbers of deaths by riders over the last couple of years, hopefully enough will be discussed about the study to remind both motorcycle riders and the rest of us on the road to keep a very close eye on each other.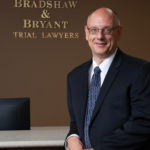 A founding partner with Bradshaw & Bryant, Mike Bryant has always fought to find justice for his clients—knowing that legal troubles, both personal injury and criminal, can be devastating for a family. Voted a Top 40 Personal Injury "Super Lawyer"  multiple years, Mr. Bryant has also been voted one of the Top 100 Minnesota  "Super Lawyers" four times.