The 90's are coming this week finally, so hopefully the snow is done. This means more and more bikes will be on the road.
I've from time to time, touch on the issues that surround the number of motorcycle deaths on Minnesota roads.
More Motorcycle Deaths Continue to Cause Concern, Mike Bryant | October 13, 2012 8:16 PM
Some Action Taken to Save Motorcyclists Lives, Mike Bryant | July 13, 2012 9:26 AM
Motorcycle Website has Some Interesting Information, Mike Bryant | July 05, 2012 9:36 AM
Death on Minnesota Roads: 2010 Motorcyclist Deaths Down and Crashes are Up, Mike Bryant | July 06, 2011 9:17 AM
Buying Motorcycle Coverage in Minnesota, Mike Bryant | May 07, 2011 9:33 AM
Official Numbers For 2009 : Better Numbers Concerning Motorcycle Highway Deaths, Mike Bryant | June 30, 2010 9:11 AM
Minnesota Troop Offers Good Advice For Motorcycle Riders, Mike Bryant | June 04, 2010 7:05 PM
Motorcycle Attacked By A Dog? Is There A Claim? (update), Mike Bryant | May 25, 2010 10:54 PM
European Motorcycle Accident Study Is Worth Reviewing For Riders, Mike Bryant | May 07, 2009 12:07 PM
With The Annual Sturgis Rally coming up this next week, it is important that all of the riders will be looking to make this a safe ride for the rest of 2011. The way to do this:
Is to watch your speed
For bikes and cars to start seeing each other
For riders to be well trained and safety conscience
And no drinking, texting, or talking on the phone while driving.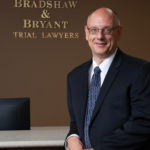 A founding partner with Bradshaw & Bryant, Mike Bryant has always fought to find justice for his clients—knowing that legal troubles, both personal injury and criminal, can be devastating for a family. Voted a Top 40 Personal Injury "Super Lawyer"  multiple years, Mr. Bryant has also been voted one of the Top 100 Minnesota  "Super Lawyers" four times.