This past week, the Minnesota Tribune editorial board put out an interesting piece on what could be done to prevent future problems like what happened in the Koua Fong Lee case. The whole thing is worth the read.
What I totally agree with is the part about the gap in available sentences:
• Establish a middle-ground careless-driving charge. Prosecutors have two choices for charging out accidents like Lee's. There's the felony criminal vehicular homicide charge, which can be difficult to prove. Their only other option: careless driving, the equivalent of running a stop sign. It's too big a gap. A gross misdemeanor charge, which could lead to a one-year jail sentence, is needed. The Minnesota County Attorneys Association will likely press for this change in the upcoming legislative session. Lawmakers should heed their concerns and act quickly.
You see this issue in many wrongful death cases. There needs to be something in between that felony and a misdemeanor. The cases of a driver running a stop or yield sign just don't seem to reach the felony, but it is just another strike at a grieving family when the driver walks with a petty or misdemeanor careless driving conviction as if he was all alone on the road.
I have thought that with a tiered set of charges, that the degrees that exist with DUI charges might be the way to go. This way, depending on the factors, a more just punishment could be looked at for everyone involved.
I know that there are many families of motorcycle riders who have been killed on the highways who will always believe that justice was not served in the loss of their loved one. It's a hot topic each year as their groups head to the capitol. Hopefully, with a renewed interest by more groups, we will see this change happen.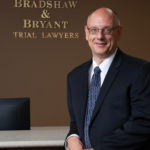 A founding partner with Bradshaw & Bryant, Mike Bryant has always fought to find justice for his clients—knowing that legal troubles, both personal injury and criminal, can be devastating for a family. Voted a Top 40 Personal Injury "Super Lawyer"  multiple years, Mr. Bryant has also been voted one of the Top 100 Minnesota  "Super Lawyers" four times.