After the recent bikers death up in Princeton, the local paper interviewed Curtis Mowers, of the Minnesota State patrol, about motorcycle safety. I found a lot of what he said as being very helpful. One of the points I thought was particularly enlightened:
He stated the best thing motorcyclists can do for their own safety is to get training in operating a motorcycle. "There are lots of folks who used to have one [a motorcycle] but they haven't in years and now they're getting back into it and their new bike is more bike than they've ever had before," Mowers said. "And there are many people that are riding for the first time."
Mowers said training is crucial for both of these groups because "trained motorcyclists are much better defensive drivers," he said. "They have to be."
There continues to be to many single motorcycle accidents where the driver leaves the road and hits something. In many of the cases the drivers are inexperienced. Education goes a long way toward preventing these incidents.
Here's a couple more blogs to read:
Motorcycle Safety: The Top 5 Tips To Safety Avoid Injuries, Rick Shapiro | June 07, 2010 7:59 AM
Republic of Texs (ROT) Biker Rally ; Let's Avoid Any Motorcycle Accidents,
Every once in a while we will get involved in a case where I marvel at the skills of the rider from preventing a much worse event from happening. That skill comes from years of training and keeping up with the best ways to ride. Hopefully, all new riders will learn and live.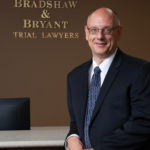 A founding partner with Bradshaw & Bryant, Mike Bryant has always fought to find justice for his clients—knowing that legal troubles, both personal injury and criminal, can be devastating for a family. Voted a Top 40 Personal Injury "Super Lawyer"  multiple years, Mr. Bryant has also been voted one of the Top 100 Minnesota  "Super Lawyers" four times.