With Sturgis getting going this week, it was sad to see the numerous stories about bikers being hurt over the last couple of days:
– Friday afternoon, a motorcyclist was killed when a station wagon crossed the median hitting him head-on as he traveled on County Road 54 in Hastings.
– Thursday afternoon, a Minnesota woman died in a head-on crash northwest of Sundance, Wyo. It is believed at this time that her motorcycle crossed the center line into an eastbound 1999 Jeep. The impact threw her from the motorcycle and into the Jeep's windshield.
– Monday, a Eden Valley man was injured after he lost control of his motorcycle and went off Stearns County Road 34 near Lakewood Road in Eden Lake Township at 6:53 p.m.
(Update: The Minneapolis Tribune is reporting about three more deaths in South Dakota this weekend:
The first crash, at about 1:30 p.m. Friday on South Dakota Highway 50 east of Ravinia, killed 57-year-old Lynn Dannecker, the patrol said. She was a passenger on a motorcycle driven by 62-year-old Laurence Maye, who was flown to a Sioux Falls hospital with life-threatening injuries, it said. Both were from Greenfield, Wis.

About an hour later on U.S. Highway 14 east of Cottonwood, Diane Thompson, 63, of Boulder, Mont., was killed when the motorcycle she was riding on slid into a ditch, the patrol said. The driver, Michael Anderson, 54, of Helena, Mont., suffered non-life-threatening injuries.

The third crash was reported about 6:30 p.m. Saturday. The patrol said Robert Lewis Jr., 57, died after crashing his motorcycle on Interstate 90 east of Salem. His passenger, Judith Lewis, 60, suffered serious but non-life-threatening injuries. They were both from Manawa, Wis.
Update: The final reports are that there were 9 people killed in related trips. Which is double the normal average. )
On a far less serious note there was a funny review on the Leno show:
http://www.youtube.com/watch?v=1P4jYQ8PeNo
The little tent did make me laugh.
There are a lot of bikes out on the road right now. Hopefully, all vehicles will be seeing each other. The death numbers have been down over the last couple of years, we need to do all that we can to continue that trend.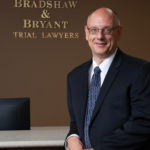 A founding partner with Bradshaw & Bryant, Mike Bryant has always fought to find justice for his clients—knowing that legal troubles, both personal injury and criminal, can be devastating for a family. Voted a Top 40 Personal Injury "Super Lawyer"  multiple years, Mr. Bryant has also been voted one of the Top 100 Minnesota  "Super Lawyers" four times.