Saturday morning, a Oakdale , Minnesota woman died in an collision in Pierce County, Wisconsin. The woman was a passenger on a motorcycle northbound on Hwy. 35 when it was struck by a car that pulled out . Presently, the police are still investigating the cause.
As with any highway death, there are a number of issues that will need to be reviewed. My partner, Joe Crumley, addressed this topic in a article for the Minnesota Lawyers Trial magazine. I was interviewed on the same topic. In this case sorrow for the families of those involved goes out.
With the weather staying warm enough to ride and gas prices staying high more people are driving fuel efficient alternatives. At the same time, recent reports indicate that deaths on motorcycles are rising in Minnesota. It's important that the following be kept in mind:
1. Yield the right-of-way.
2. Start seeing motorcycles.
3. When on a motorcycle, make sure people see you.
4. When just starting to ride, make sure you have the correct training.
The road is big enough for everyone.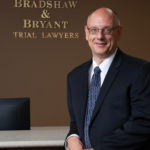 A founding partner with Bradshaw & Bryant, Mike Bryant has always fought to find justice for his clients—knowing that legal troubles, both personal injury and criminal, can be devastating for a family. Voted a Top 40 Personal Injury "Super Lawyer"  multiple years, Mr. Bryant has also been voted one of the Top 100 Minnesota  "Super Lawyers" four times.