As of Sunday afternoon three motorcyclists have lost their lives this weekend on Minnesota highway:
– Friday afternoon a 23 year old from Detroit Lakes is alleged to have been fleeing police in Minneapolis when he was hit by a car on Washington Ave near the I-94 entrance.
– Also on Friday, a Elk River man was killed when he hit a deer.
– A Kasota man was killed when he was hit by a semi.
A St Cloud rider was injured on Saturday when he lost control around a curve and drove into a ditch.
Each of these incidents seem like they could have been avoided. I was reading an article from citizen.com and the advice of riding coach Carl Segelstrom seemed especially fitting. He made the following points:
According to statistics, over 50 percent of single-vehicle motorcycle accidents occur in turns.

"Most of the time with a motorcyclist involved in an accident, they fail to negotiate a turn,"

half of all motorcycle fatalities across the nation are alcohol related.

"You need to keep your rider radar on; you need to know what's going on at all times," Segelstrom said. "You're on the road with a lot of other people."

"One of the most important things while riding is being visible to others," Segelstrom said. "Don't hide yourself in the shadows."
All of this advice is helpful, especially as Ride to Work Day is back today. Ride to Work, a Proctor, Minn.-based nonprofit, sponsors the event, and says as many as a million riders may participate.
Hopefully, all the riders today will do so with a memory of what happened over the weekend and a eye to the dangers that are out there.
Here's a couple more blogs to read:
Motorcycle Safety: The Top 5 Tips To Safety Avoid Injuries, Rick Shapiro | June 07, 2010 7:59 AM
Republic of Texs (ROT) Biker Rally ; Let's Avoid Any Motorcycle Accidents,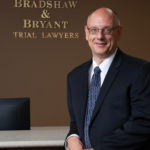 A founding partner with Bradshaw & Bryant, Mike Bryant has always fought to find justice for his clients—knowing that legal troubles, both personal injury and criminal, can be devastating for a family. Voted a Top 40 Personal Injury "Super Lawyer"  multiple years, Mr. Bryant has also been voted one of the Top 100 Minnesota  "Super Lawyers" four times.