Friday morning, on Highway 30 near Blooming Prairie a semi that the State Patrol believes was trying to pass a left hand turning farm tractor. The driver of the tractor was killed. The driver of the semi was injured. The collision is still under investigation.
Sorrow goes out for all of the families and friends of those involved.
As with any death in a Minnesota motor vehicle collision, there are a number of issues that will need to be reviewed. My partner, Joe Crumley, addressed this topic in a past article for the Minnesota Lawyers Trial magazine. I was interviewed on the same topic.
When trucks are involved there are other issues that involve federal regulations and the need for early and experienced investigation.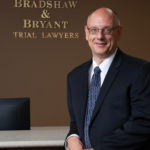 A founding partner with Bradshaw & Bryant, Mike Bryant has always fought to find justice for his clients—knowing that legal troubles, both personal injury and criminal, can be devastating for a family. Voted a Top 40 Personal Injury "Super Lawyer"  multiple years, Mr. Bryant has also been voted one of the Top 100 Minnesota  "Super Lawyers" four times.