To give your claim the best chance of success, your truck accident attorney will conduct a thorough investigation to identify all potentially liable parties. Depending on the cause of your wreck, one or more of the following parties may be liable for your damages:
The truck driver;
The owner of the truck;
The shipping or trucking company;
The party who loaded the truck;
A negligent mechanic;
Weigh station officials, if the truck was overloaded but they allowed the trucker to continue with the delivery;
The company that manufactured the truck or its parts;
The party who hired the trucking company; and/or
A government entity.
It is common in truck accident cases for multiple parties to share a percentage of fault. For example, if the truck rolled over because the truck driver was speeding and because the truck was overloaded, both the truck driver and the party who loaded the truck might share a percentage of fault.
When multiple parties are liable for a truck accident, the jury will determine each defendant's percentage of fault. Each defendant will be liable for the percentage of damages that corresponds to their percentage of fault—unless their percentage of fault is less than that of the plaintiff.
For example, if you incurred $50,000 in damages and the jury finds that two defendants were each 50 percent liable for the crash, each defendant would pay $25,000. However, if you are found to have been partially liable for the accident, you will not be able to recover against any defendant whose percentage of fault was less than your own. Also, if you are found to have been partially liable, your recovery will be reduced by your percentage of fault.
Discuss Your Case with a Minnesota Truck Accident Lawyer Today!
The personal injury attorneys at Bradshaw & Bryant offer compassionate and tenacious legal representation to clients in Waite Park, Golden Valley, and throughout Minnesota. Schedule a free consultation with an accident lawyer today by calling 800-770-7008.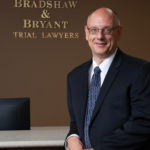 A founding partner with Bradshaw & Bryant, Mike Bryant has always fought to find justice for his clients—knowing that legal troubles, both personal injury and criminal, can be devastating for a family. Voted a Top 40 Personal Injury "Super Lawyer"  multiple years, Mr. Bryant has also been voted one of the Top 100 Minnesota  "Super Lawyers" four times.