On Sept. 26, 2003, a Burlington Northern train hit a car, killing four teenagers. The investigation into the case raised the issue of whether the signals were working. The railroad pushed a story that the kids had tried to race the train. The jury didn't believe the railroad and awarded $21.6 million in damages.
Serious questions were uncovered during pretrial discovery, and others came to light after the trial, concerning the actions of the railroad. It has now been determined that Burlington Northern had started to destroy evidence immediately after the deaths. The court found that the company lost or fabricated evidence, interfered with the families' investigation of the accident and "knowingly advanced lies, misleading facts and/or misrepresentations" in order to conceal the truth. The court's findings included:
The loss, destruction, and/or fabrication of electronic and physical records;
The failure to follow its own policies for accident investigation and coordination with law enforcement;
The obstruction of and interference with plaintiffs' investigation;
The interference with plaintiffs' access to witnesses and the accident site;
The destruction or production of erroneous circuitry drawings;
Knowingly advancing lies, misleading facts, and/or misrepresentations by BNSF employees/agents in depositions, sworn affidavits, and/or trial testimony.
The court's findings are stunning. As a part of the ruling the court awarded an additional $4 million in penalties against the railroad. It is clear that the court found significant violations by the defendants.
It will be interesting to watch the court watchers respond to this result. I am sure that a tort deform advocate or two will attempt to call it something bad. Instead, all parties should agree that punishment for lying and hiding the truth in cases has to be punished. Our system doesn't work if any party takes the oath and basically spits on it.
Our sympathies go out to the families that lost their loved ones that sad night. Hopefully, seeing justice served and the lies that were told about those lost love ones exposed will give them some solace.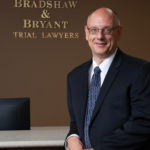 A founding partner with Bradshaw & Bryant, Mike Bryant has always fought to find justice for his clients—knowing that legal troubles, both personal injury and criminal, can be devastating for a family. Voted a Top 40 Personal Injury "Super Lawyer"  multiple years, Mr. Bryant has also been voted one of the Top 100 Minnesota  "Super Lawyers" four times.