In other states, where there is enough of the white stuff to ski with regularity, there are state tramway boards. Their jobs are to oversee lift and resort safety. So what happens in Minnesota? Insurance companies send out engineers twice a year to do safety and compliance checks. We hope.
With no board, what are they complying with? Are their records accessible to the general public, the way a governmental agency would be? Who are the insurance company engineers really protecting?
The issue came up recently as eight people were injured at the Sugarloaf Ski Mountain in Maine. The people fell 30 feet after a lift malfunction.
It's happened in other states that have better regulation. Three in Pittsburgh, three seriously injured in Wisconsin, and 65 stranded in Canada. These are just a couple of the examples that are easy to find with a little internet searching.
Winter sports are a lot of fun, but they can become tragedies when there isn't attention to safety. There should be some concern that no one is paying attention to the issue in Minnesota.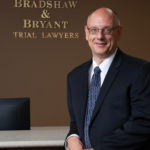 A founding partner with Bradshaw & Bryant, Mike Bryant has always fought to find justice for his clients—knowing that legal troubles, both personal injury and criminal, can be devastating for a family. Voted a Top 40 Personal Injury "Super Lawyer"  multiple years, Mr. Bryant has also been voted one of the Top 100 Minnesota  "Super Lawyers" four times.