Justice was indeed served as the Minnesota Supreme Court reversed the Minnesota Court of Appeals and upheld a $21 million verdict. In FRAZIER v. BURLINGTON NORTHERN SANTA FE CORPORATION, the high court ruled:
BNSF contends its "inadvertent failure to object, pre-deliberation, to the erroneous instruction" on common-law negligence was a simple mistake.* * * Granting BNSF a new trial on liability after it knowingly tried the case under (what we have assumed, but not determined, to be) the wrong standard of care does not accord with notions of fairness or ensure integrity in judicial proceedings. Indeed, reversal of the jury's verdict for this assumed error—after a six-week trial during which BNSF defended on the basis of common-law negligence—would adversely impact the integrity of the judicial proceedings. We conclude that even if the instructions to the jury and special verdict form in this case were erroneous, even if the error was invited, even if invited error is reviewed as plain error, and even if the error substantially affected BNSF's rights, the error did not affect the fairness or the integrity of the proceedings. We therefore reverse the court of appeals and affirm the district court's denial of BNSF's motion for a new trial on the ground of an allegedly erroneous instruction on the standard of care."
The decision was another step for justice for the families of the teenagers who were tragically killed so many years ago. The Minneapolis Tribune did some excellent reporting as they looked at the reaction of four of the families. Hopefully, the money will finally be paid and the families can move on as best they can. This topic has been looked at in the past here at the Injurybord as the case moved along: The Burlington Northern Case Now Heads To The Appeal Stage, Mike Bryant | August 07, 2010 10:05 AM
Rail Operators Failing to Maintain Safe Crossings, Randy Appleton | October 18, 2009 2:01 PM
Court Penalty Punishes Burlington Northern $4 Million For Lying, Mike Bryant | October 18, 2009 10:29 PM
Burlington Northern Sante Fe Railroad Destroyed Evidence in Attempted Cover Up, Brett Emison | October 16, 2009 11:32 AM
Railroad Says Human Life Not Worth $6 million, Brett Emison | December 12, 2009 10:07 AM
I salute the brave family members who have fought this battle and to their lawyers who were true advocates. Hopefully, their battle will add to the need for greater safety and continual scrutiny of all of the railroad practices.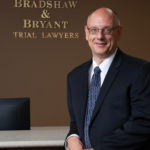 A founding partner with Bradshaw & Bryant, Mike Bryant has always fought to find justice for his clients—knowing that legal troubles, both personal injury and criminal, can be devastating for a family. Voted a Top 40 Personal Injury "Super Lawyer"  multiple years, Mr. Bryant has also been voted one of the Top 100 Minnesota  "Super Lawyers" four times.