The the over night wait in the Rochester case from this summer finally got the FAA to deal with tarmac delay issues. The limit is now three hours. "Airline passengers have rights, and these new rules will require airlines to live up to their obligation to treat their customers fairly," Transportation Secretary Ray LaHood said in a statement issued along with the rules, which take effect in April. Airlines would be fined $27,500 per passenger for each violation of the three-hour limit, he said.
The 47 passengers were jammed into a 50-seat airplane, which was operated by ExpressJet Airlines and had been diverted to Rochester because of bad weather in the Twin Cities. Passengers did not have food or water; there were crying babies on board, and the toilet broke down halfway through the night.
A case in Seattle was highlighted by another member here at the Injuryboard.
Passengers Endure Travel Nightmare, Jessica Vick | January 22, 2009 3:23 PM
The Department of Transportation also announced that carriers must provide adequate food and drinking water for passengers within two hours of a delay on the tarmac and maintain operable bathrooms.
This change is good news for all Airplane travelers. I used to fly a lot as a kid, going back and forth between my parents. I remember being stuck in Bismark, North Dakota as a nine year old for 6 hours. Not a fun experience.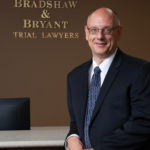 A founding partner with Bradshaw & Bryant, Mike Bryant has always fought to find justice for his clients—knowing that legal troubles, both personal injury and criminal, can be devastating for a family. Voted a Top 40 Personal Injury "Super Lawyer"  multiple years, Mr. Bryant has also been voted one of the Top 100 Minnesota  "Super Lawyers" four times.