What a night last week in Southern Minnesota. A night of multiple motor vehicle accidents and the need for immediate medical emergency responses. The Rochester Post Bulletin had the time line recently:
• At 3:21 p.m., a tour bus carrying 22 people crashes on Interstate 90, killing two people and injuring 20.

• At 5:15 p.m., a school bus carrying 22 students from Wabasha-Kellogg High School collided with a car on U.S. 63 North in Rochester, injuring eight students and seriously injuring the car's driver and passenger.

• Minutes later, an ambulance that was headed to the scene of the school bus crash was involved in a four-vehicle accident on Second Street Southwest. Two people were injured and had to be extricated from their vehicles.

• About 7:30 p.m. at Church of the Savior in southeast Rochester, a vehicle struck a pedestrian, then slammed into the church.
Four separate significance incidents, within four hours, all of which required quick responses. There was a need for police, sheriffs, troopers, firefighters, ambulance crews and helicopter personnel. There also the vital requirement of hospital and emergency room personnel . What a test for even a much larger area. It sounds like the test was not only met , but that it was exceeded in it's expectations.
I often talk to clients that will point out the difference that the emergency personal made. When I get the chance I thank these individuals for their past and future service. Hopefully, everyone will do that.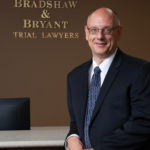 A founding partner with Bradshaw & Bryant, Mike Bryant has always fought to find justice for his clients—knowing that legal troubles, both personal injury and criminal, can be devastating for a family. Voted a Top 40 Personal Injury "Super Lawyer"  multiple years, Mr. Bryant has also been voted one of the Top 100 Minnesota  "Super Lawyers" four times.