It was reported that tonight two are dead and 21 have been injured in a tour bus crash in Austin, Minnesota. The bus was on I-90 and returning from a trip to Diamond Jo Casino in Northwood, Iowa.
Investigation by the State Patrol will hopefully determine what happened, but according to the Minneapolis Tribune:
the driver was in his 50s and had worked for the company when it was focused on school bus trips. He also has experience driving semitrailer trucks and working with heavy machinery.
Did he fall asleep or have some other medical condition? It has been reported that:
There was no construction going on in the area of the accident and weather was not a factor, Andy Skoogman, a spokesman for the Department of Public Safety said, adding that several cars in the westbound lanes got out of the way of the bus.
According to Skoogman, the bus was heading east on Interstate 90 near Austin when it crossed the median into the westbound lanes. It ended up in a ditch where it flipped over.
If you are driving it is important that you be aware of fatigue signs.
Update : what happened with the case?
Minnesota I-90 Bus Rollover Settled, Charles James (Jim) Suk | September 16, 2011 5:30 PM
WARNING SIGNS OF DROWSINESS AND FATIGUE
If you:
can't remember the last few miles driven
have wandering or disconnected thoughts
experience difficulty focusing or keeping your eyes open
have trouble keeping your head up
drift from lanes or hit a rumble strip
yawn repeatedly
tailgate or miss traffic signs
find yourself jerking your vehicle back into lane
then you may be suffering from drowsiness or fatigue. Continuing to drive in this condition puts you at serious risk of being involved in a fatigue-related crash. You should pull over in a safe place and get some rest before resuming your trip.
WHAT YOU CAN DO TO STAY ALERT WHILE DRIVING:
Sleep / Take naps: Your best bet is to get enough sleep every day. If you must stay up late, afternoon naps are a great way to get more sleep. If you feel drowsy while driving, a 15-minute nap can be very effective. Make sure to pull over in a safe place.
Caffeine: Avoid caffeine during the last half of your workday as it may contribute to sleeping problems. You can gain short-term alertness by drinking coffee or other caffeine sources if driving, but it usually takes 30 minutes to take affect and wears off after a few hours.
Regular stops: You should stop every 100 miles or 2 hours. Switch drivers if you can.
Avoid Alcohol: If you have been drinking, please don't drive! In addition to being illegal, alcohol makes you sleepy and amplifies your fatigue.
If you are planning a long trip, AAA offers the following tips for avoiding fatigue:
Prepare for your trip by getting a good night's sleep the night before. Plan to drive during the time that you are normally awake, and stay overnight rather than traveling straight through.
Avoid driving during the body's "down time". According to AAA, this is generally in the mid-afternoon and between midnight and 6:00 a.m.
If you have passengers, talk to them. It will help to keep you alert, and they will also be able to tell if you are showing signs of getting sleepy.
Schedule a break every 2 hours or every 100 miles. Take a nap, stretch, take a walk and get some exercise before resuming your trip.
Stop sooner if you show any danger signs of sleepiness.
"TRICKS" THAT DO NOT WORK
Opening the window, turning on the air conditioning, or playing loud music are not effective in keeping drivers alert for any extended period of time.
For Passengers on a bus that need to approach a driver it has also been suggested:
1) Talking to an authority figure on the bus
2) Calling the police
3) Talking to the driver in a group
4) Or at least reporting it at the next stop
Sympathy goes out to those that lost friends and family on the bus. It is also hoped that those that were injured heal quickly. Outings like this shouldn't end up in tragedies.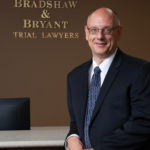 A founding partner with Bradshaw & Bryant, Mike Bryant has always fought to find justice for his clients—knowing that legal troubles, both personal injury and criminal, can be devastating for a family. Voted a Top 40 Personal Injury "Super Lawyer"  multiple years, Mr. Bryant has also been voted one of the Top 100 Minnesota  "Super Lawyers" four times.