That will be the question, people will be asking and hopefully will be answered. The background question is by who and how? It may be the State Patrol who had a very interesting press conference today that touched on a number of issues concerning the crash. Or the question may already be answered:
http://www.youtube.com/watch?v=8T37zpZd0ZU&feature=player_embedded
Last night I speculated that is could be a medical condition or the driver may have fallen asleep. No matter what the answer is, it will be important that all the questions are asked:
What did the driver do during the day?
Why were they unexpectedly on I-90?
What is the medical history of the driver?
Does his past driving record reveal anything?
Update : what happened with the case?
Minnesota I-90 Bus Rollover Settled, Charles James (Jim) Suk | September 16, 2011 5:30 PM
It is clear that the insurance companies are already out and asking questions. My guess is that they aren't doing it to make sure that everyone is properly compensated. The State Patrol will do their very best , but they may not be looking out for the rights of each individual involved. The whole issue of liability (fault) may very easily turn on what is found and what isn't.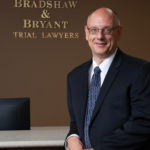 A founding partner with Bradshaw & Bryant, Mike Bryant has always fought to find justice for his clients—knowing that legal troubles, both personal injury and criminal, can be devastating for a family. Voted a Top 40 Personal Injury "Super Lawyer"  multiple years, Mr. Bryant has also been voted one of the Top 100 Minnesota  "Super Lawyers" four times.