It was reported the Minnesota State Patrol did ride alongs on trains in Minnesota the last week in August. They were put there to look at what the possible reasons could be for car/train accidents in the state. It was probably spurred by the record number of people who were killed in Minnesota by trains in 2009.
I will be very interested in what findings come out of these trips:
-I've been concerned for some time about the idea of expanding "quiet zones". These are the towns that don't want to hear horns go off as the trains go by. The thing is with giant masses of metal flying through a community, it may not be the safest to have them trying to be silent.
-I will be interested to see what the troops find about rail arms and signals. Are all of them working? Do they see any bounces where the arm comes down and then bounces back up?
-To be fair, they also should be looking to see how many people are out there running around arms. If the railroads promote that there were no rail arm problems, it should also be pointed out if there are no phantom cars out there racing trains Willie nilly around the state.
– I would also think it would be worthwhile for the troopers to check if there was any maintenance or oversight in the week before their rides. It wouldn't shock me if the railroads were out doing a little extra to insure they don't have any of the usual problems.
The railroads are important to the US economy. But, at the same time, they have a responsibility to the public as they move close to our children and through our towns. I personally have always liked the sounds of the train going past as it does not too far from my house a couple of times a day. I hope the troopers come up with information to make things safer.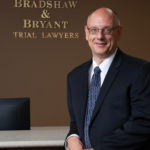 A founding partner with Bradshaw & Bryant, Mike Bryant has always fought to find justice for his clients—knowing that legal troubles, both personal injury and criminal, can be devastating for a family. Voted a Top 40 Personal Injury "Super Lawyer"  multiple years, Mr. Bryant has also been voted one of the Top 100 Minnesota  "Super Lawyers" four times.