This one was a much better performance by the President. He looked energized and like a confident Commander in Chief this time. Romney had some interesting lines and tried to stand up like he did in the first debate. He stumbled a couple of times and was even directly corrected once.
I was most interested in his "Government doesn't create jobs! Government doesn't create jobs!" statement. I thought that was the main reason he was running for office. Is that the message that the other people he's running with on the ticket want to hear? Seems like the whole "look at the unemployment rate" argument depends on at least the government having something to do with it.
The spinners are both claiming a win for their guy tonight. That is what is always to be expected. Although, I thought the Democrats were clearly troubled after the first debate and now there is not really any concern.
There wasn't any tort talk tonight. Which is fine and more reflective that this is a fund raising issue and not a real issue for voters.
So now we've got one more debate. I would expect that Romney will be really gearing up for the last one. The President has to feel better about his performance and will be far more comfortable going into that one. There isn't much time until the election, so hold on and we will see what the next week brings.
Debates can be informative and do give the public a chance to see them side by side. Let's hope the last one is a good chance to see the differences.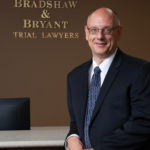 A founding partner with Bradshaw & Bryant, Mike Bryant has always fought to find justice for his clients—knowing that legal troubles, both personal injury and criminal, can be devastating for a family. Voted a Top 40 Personal Injury "Super Lawyer"  multiple years, Mr. Bryant has also been voted one of the Top 100 Minnesota  "Super Lawyers" four times.