It's a interesting video.
Watching it, there is a number of non-excuses and really no answer to why.
I did find it interesting that with her lifetime of governmental work, she says she never planned for this to be a career.
I have been seeing her tweets for the last couple of months and was glad that she was doing so much for the district. Seemed like she was finally doing her job. Because like her or not, she really didn't do her job as a Congressperson at all while she was running for President. So now that she is quitting will she take a check and worry about everything else in her life or will she earn that check?
The next year or so will be what tells us why. Does she suddenly show up with a high paying national job? or running for another office? Or does she drift off into the history books and a normal life? Either way she has had an impressive career and never was far from attention.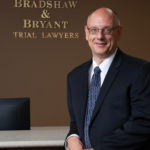 A founding partner with Bradshaw & Bryant, Mike Bryant has always fought to find justice for his clients—knowing that legal troubles, both personal injury and criminal, can be devastating for a family. Voted a Top 40 Personal Injury "Super Lawyer"  multiple years, Mr. Bryant has also been voted one of the Top 100 Minnesota  "Super Lawyers" four times.