The first week of September, finds kids heading back to school. All the excitement of getting back to see friends and getting back to learning. It's important that safety not be forgotten. Bob Stuber ,founder of Escape School, a group that aims to keep kids safe was recently on the Early Show with the following tips:
Research Route to School: Parents and kids together need to map out what route to take to school, and any alternate routes.
Encourage Responsibility: Kids should not expect cars to look out for them; they need to take responsibility and protect themselves.
Watch Child Reach Safety: If you drive your child to school, don't take off the moment she steps out of the car.
Advocate for Safety Changes: Parents often don't realize how much power they have to change things within a school. If you think your child's bus should have a crossing gate, or your school needs a call-back system (the administration calls if your child does not arrive at school), then gather other parents together and complain.
Concerning bus safety, the Injuryboard provides a number of important facts and members have other helpful tips:
Jeremy Thurman with school traffic laws. Gaines Drago on Keeping kids safe on the way to school.
and California contributor Walter Barber on bus safety.
I always found the first day to be the best part of each school year and see have seen the same excitement in my own boys as I drop them off. So have fun, be safe and enjoy the start to a new year.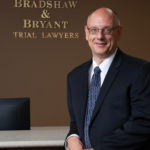 A founding partner with Bradshaw & Bryant, Mike Bryant has always fought to find justice for his clients—knowing that legal troubles, both personal injury and criminal, can be devastating for a family. Voted a Top 40 Personal Injury "Super Lawyer"  multiple years, Mr. Bryant has also been voted one of the Top 100 Minnesota  "Super Lawyers" four times.