I really make an effort to make sure that my clients have access to me. I give them my cell phone number and if they come in , I do my very best to meet with them. It's helpful if they have an appointment or even just call ahead a little bit, so I can plan better, but they need help and I need to be there.
I was struck by this concept last week when my Blackberry decided to go out on me. It was some fatal error that I couldn't find a fix for no matter how many things I googled. So the next morning, I headed over to the local Verizon store to check their hours. The one in St Louis Park off of Highway 7 was closed, but there was a group of people sitting just inside the door. So I went up, to see if at least I could find out if my phone was dead or if there was maybe a secret reset button. A guy came out and before I could really say anything told me there was a meeting going on, so come back in an hour when they opened up. I wasn't mad, I understand the importance of meetings, but it seems like he shouldn't have even bothered coming out.
So , I drove on to Monticello and went to the Verizon off of 94. The place was just opening up and since I was right out in front another person came right out and opened the door and asked me what the problem was. My phone was done , but I felt a lot better with the help.
I hope I can give my clients more of the second feeling that I had and little if any feeling of the first. It's not always good news, so every interaction isn't going to be great. But, the attention and the feeling that you are important as a customer does make a difference.
I do hope their meeting went well, I just don't expect that I will ever go back there.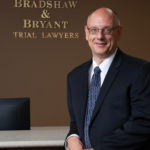 A founding partner with Bradshaw & Bryant, Mike Bryant has always fought to find justice for his clients—knowing that legal troubles, both personal injury and criminal, can be devastating for a family. Voted a Top 40 Personal Injury "Super Lawyer"  multiple years, Mr. Bryant has also been voted one of the Top 100 Minnesota  "Super Lawyers" four times.