I was driving on Highway 169 on a Sunday morning when I noticed a police officer hiding off an overpass. He clearly was hiding in a corner and had the speed gun out covering the northbound lane. Because of certain circumstances, I ended up going by later and saw a car pulled over who was a very unhappy individual. It made me wonder what kind of effect do speed traps really have?
The individual who was pulled over had no idea whatsoever that a cop was present, so any idea that it was a deterrent to have a police officer out there is completely given up by hiding like a duck hunter.
So what do we have as a result of this stop? We have a revenue source for the city, funding for the court, and a black mark on the individual's insurance policy as they will have increased rates. Is anyone actually safer because of this? I guess you could argue the speeder might slow down or at least take it easy for a little while. Considering it is not a careless driving or a drunk driving charge, did we really save the public from anything?
In traveling on 169 that morning, you could clearly see that while there were a lot of cars speeding, there were not a whole pile of accidents and everybody seemed to be enjoying the new springtime weather in Minnesota. It seems that the speed traps put the money and focus in the wrong places.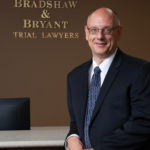 A founding partner with Bradshaw & Bryant, Mike Bryant has always fought to find justice for his clients—knowing that legal troubles, both personal injury and criminal, can be devastating for a family. Voted a Top 40 Personal Injury "Super Lawyer"  multiple years, Mr. Bryant has also been voted one of the Top 100 Minnesota  "Super Lawyers" four times.