Information keeps coming about whether Ashton is really cheating on Demi. Not sure that I really care, but a recent story did catch my eye. The claim is that one of the alleged mistress's lawyers has advised her to get rid of her facebook page. It seems to be to prevent the press from digging up more dirt.
This advice may make sense in the situation that they are in. I am amazed at how little people seem to think about posting some of the things they do. Simple posts that just say where they are can disclose much more information than was intended. In situations where people are watching real close, the posts on a couple of different social media sites can be put together to tell much more of a story.
But, if there is a lawsuit pending or already going, this can be very bad advice. It very well may be the destruction of evidence. So hopefully, people following the story don't take it as advice to start scrubbing their sites when lawsuits are involved.
The best idea is to think about it before you post it. Is it something that you really want people to see? Is it consistent with what you are saying? It's probably there forever.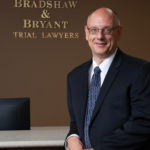 A founding partner with Bradshaw & Bryant, Mike Bryant has always fought to find justice for his clients—knowing that legal troubles, both personal injury and criminal, can be devastating for a family. Voted a Top 40 Personal Injury "Super Lawyer"  multiple years, Mr. Bryant has also been voted one of the Top 100 Minnesota  "Super Lawyers" four times.