In a recent ruling, the Minnesota Supreme Court made it easier for a person found not guilty of a crime to receive an expungement, the process of erasing a criminal file. In State v. RHB, 821 N.W.2d 817, (Minn. 2012), Appellant was charged with first and third degree assault on the ground that Appellant injured a young child in his care. A jury found Appellant not guilty of both charges, and the district court entered a judgment of acquittal.
Appellant then petitioned the district court for an order sealing the criminal records related to the alleged assault. The district court granted Appellant's petition, concluding that the State failed to prove by clear and convincing evidence that the public's interests outweighed Appellant's interests pursuant to Minnesota's expungement statute. The court of appeals reversed, finding that Appellant proved no specific disadvantage to himself against which to balance the interests of the public. The Supreme Court reversed the decision of the court of appeals, holding that an expungement petitioner is not required to prove specific disadvantages he or she will suffer if the petition is denied and may instead satisfy his or her burden of production simply by establishing the fact of his or her acquittal. This ruling means that it should be easier for people wrongfully accused of a crime to clean up any records and not have any repercussions of a false accusation. If you have been wrongfully accused and had the charge either dismissed or been found not guilty of a crime contact an experienced criminal defense attorney to wipe your record clean.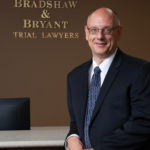 A founding partner with Bradshaw & Bryant, Mike Bryant has always fought to find justice for his clients—knowing that legal troubles, both personal injury and criminal, can be devastating for a family. Voted a Top 40 Personal Injury "Super Lawyer"  multiple years, Mr. Bryant has also been voted one of the Top 100 Minnesota  "Super Lawyers" four times.