Today in Minnesota, a very strange email arrived from the U S Chamber of Commerce. It was vague enough that it may be one that, with a couple of changes, is arriving in emails across the country. The basic message is the need for tort reform. But, this one was especiallylight on information or facts.
The message points out the unemployment rate in the state, calls for the need for more employers to hire more workers, says that the legislature should support this goal, than concludes that we need tort reform to accomplish it.
Wow, that seems to jump past a couple of items:
1) The absolute mismanagement and greed that has created the problem
2) The unemployment has been caused by these companies and their golden parachutes
3) That nowhere in the mess is a lawsuit that caused it.
The gall to use the present economic conditions to champion their old and frivolous agenda is amazing. Does the logic continue to the point that it could be argued that the good economic times were due to the tort laws at that time? My guess is that it doesn't.
Don't be fooled by the empty claims. Also don't let them turn the attention away from the AIG's , Citibank and mortgage schemes that created the problem. Strong governmental oversight and the consumers constitutional right to sue is what keeps these greedy pigs in line.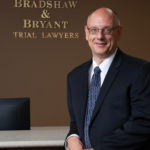 A founding partner with Bradshaw & Bryant, Mike Bryant has always fought to find justice for his clients—knowing that legal troubles, both personal injury and criminal, can be devastating for a family. Voted a Top 40 Personal Injury "Super Lawyer"  multiple years, Mr. Bryant has also been voted one of the Top 100 Minnesota  "Super Lawyers" four times.