Unfortunately, of the 38-percent of the United States' population who are eligible to give blood only about 8-percent actually do it.
Giving blood is an easy process. It usually takes an hour at most. You show up, read some forms, answer some questions, then they lay you down and take a pint. It ends with a snack and something to drink. You replace the fluid in hours and the red blood cells within four weeks. It takes eight weeks to restore the iron lost after donating.
It's a great way to donate to an important cause and get the "Be Nice to Me- I Gave Blood Today" sticker that is as important for the person that got your blood as the "I Voted Today" sticker. I'm always proud of wearing both.
Other reasons for giving:
1. More than 4.5 million patients need blood transfusions each year in the U.S. and Canada.
2. 43,000 pints: amount of donated blood used each day in the U.S. and Canada.
3. Someone needs blood every two seconds.
4. Only 37 percent of the U.S. population is eligible to donate blood – less than 10 percent do annually.
5. About 1 in 7 people entering a hospital need blood.
6. One pint of blood can save up to three lives.
Where you go to help: http://www.redcross.org/donate/give/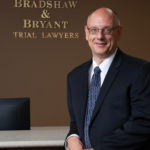 A founding partner with Bradshaw & Bryant, Mike Bryant has always fought to find justice for his clients—knowing that legal troubles, both personal injury and criminal, can be devastating for a family. Voted a Top 40 Personal Injury "Super Lawyer"  multiple years, Mr. Bryant has also been voted one of the Top 100 Minnesota  "Super Lawyers" four times.