This week, the FBI landed a crushing blow on all of the online poker sites that are advertised nightly in the United States. Individuals involved with internet gambling companies PokerStars, Full Tilt Poker and Absolute Poker were indicted for bank fraud, money laundering, and illegal gambling and sued in a companion civil suit that seeks at least $3 billion in forfeitures and penalties.
Each of these sites have gone dark and there are questions about what will happen. Since these sites are household names that adorn almost every professional poker player's advertising opening, it will be interesting to see what the future holds for their wardrobes.
There is a lot of money out there, so it's likely that someone is already working on how to take advantage. There are probably local games springing up all over as playing junkies are jonsing for a game.
I would expect that a big question is : What happening with the money? Because there are of accounts of ordinary people that are tied up in the $5.1 billion dollar market. It has been reported that there are actually thousands of people who earn their livings on these sites. It is very possible that the money is gone. Either siphoned out before the shutdown or tied up in the government closing. I would guess there will be some who hope they never hear about it, because they don't want revealed what were doing.
Alternatively, the Christian Science Monitor pointed out that at the same time there are government officials working to legalize these very sites. As they report:
Boosters of poker, moreover, say it's a game of skill, where betting is different from betting on games of chance.

Former Sen. Alfonse D'Amato of New York, who chairs an advocacy group called Poker Players Alliance, issued a statement following the legal action Friday.

"On behalf of the millions of poker players across the country, we are shocked at the action taken by the U.S. Department of Justice today against online poker companies and will continue to fight for Americans' right to participate in the game they enjoy," he said. "Online poker is not a crime and should not be treated as such."
No matter what happens, it is clear that the sudden action will have a chilling affect on the future play of many people. Considering that these sites have whole sections that are fake money, there may be hope that at least that play will make it back.
Part Time Poker did publish a statement by Full Tilt which suggests that they will put up a fight. It also indicates that play will go on outside of the US. But, there isn't a word about people's personal accounts. That's not a good sign.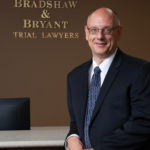 A founding partner with Bradshaw & Bryant, Mike Bryant has always fought to find justice for his clients—knowing that legal troubles, both personal injury and criminal, can be devastating for a family. Voted a Top 40 Personal Injury "Super Lawyer"  multiple years, Mr. Bryant has also been voted one of the Top 100 Minnesota  "Super Lawyers" four times.