On April 30, 2009, the Minnesota Supreme Court issued its decision in State v. Underdahl. That decision holds that the computer source code for the operating software for the Intoxilyzer is subject to discovery provided a showing is made that the information may relate to the guilt or innocence of the defendant or negate guilt or reduce the culpability of the defendant as to the offense charged. In holding that the defendant had submitted sufficient supporting evidence to establish that the source code might relate to his guilt or innocence, the court referenced the written testimony of David Wagner, a computer science professor at the University of California in Berkeley, who explained the source code in voting machines, the source code's importance in finding defects and problems in those machines, and the issues surrounding the source code's disclosure. Additionally, he provided a copy of a report prepared on behalf of the defendants in New Jersey litigation about the reliability of New Jersey's breath-test machine.
The defendants further argued that the State of Minnesota was in possession of the source code for purposes of litigation. For years, the State has relied on the argument that the manufacturer of the Intoxilyzer 5000, CMI a corporation from Kentucky, was in possession of the source code and defendants could obtain it directly from CMI. CMI, however, refused to release the source code to defendants. The Minnesota Supreme Court specifically held that the State of Minnesota is in possession of the source code for purposes of litigation and required the State produce the source code to the defendant within 30 days.
If you are charged with a DUI in the State of Minnesota and you took a breath test at the police station, you may have new legal defenses based on the Supreme Court's ruling in Underdahl. This is a very complicated and ever changing area of the law, so you need to contact an experience criminal defense attorney who understands the unique ramifications of this ruling.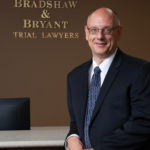 A founding partner with Bradshaw & Bryant, Mike Bryant has always fought to find justice for his clients—knowing that legal troubles, both personal injury and criminal, can be devastating for a family. Voted a Top 40 Personal Injury "Super Lawyer"  multiple years, Mr. Bryant has also been voted one of the Top 100 Minnesota  "Super Lawyers" four times.