As always the decision to go to trial can be a complicated one. I decide as
to my willingness at the time the case is signed up. If I wouldn't try it, I
need to turn it down. But as offers come in, there always must be a review with
the client. Unreasonably low offers are easy. In those cases the client has to
go to trial to receive justice or can walk away. The fair offer will get the
case settled.
The tougher question comes up with those close offers that aren't totally
fair for your client. A recent study by DecisionSet suggests that the close
offers need to be looked at closely .
In the study published by the Journal of Empirical Legal Studies, that
looked at New York civil trials verdicts vs offers and demands, the risks for
both sides were identified. The studied indicates that plaintiffs received less
than their demands 61% of the time, the defendants paid more than their offer in
24% of the trials and in 15% of the cases there was a middle ground of the
plaintiff getting less than their demand, but the defendant paying more than
it's last offer.
Just as revealing was how variant the verdicts could be. For the the
plaintiff the difference in demand verse lower verdict was $43,000 but for the
defendant it was $1.1 million. So while Plaintiffs had a greater percentage of
cases where they received less than what they demanded, Defendants saw that when
they did get it wrong they were hit for a much higher verdict.
What comes out of all this is the importance of fully informing the client
of the risks and benefits of going to trial or settling.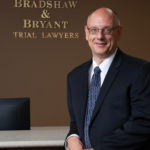 A founding partner with Bradshaw & Bryant, Mike Bryant has always fought to find justice for his clients—knowing that legal troubles, both personal injury and criminal, can be devastating for a family. Voted a Top 40 Personal Injury "Super Lawyer"  multiple years, Mr. Bryant has also been voted one of the Top 100 Minnesota  "Super Lawyers" four times.