Tort reformers scream from the mountain tops that civil lawsuits are clogging up the system, that loads of juries are giving away money like game shows, and that the system is out of control. The U S Chamber for Legal Reform is continuing their slanted surveys about whether the system killing or just choking big business. One of the questions has four answers that all say the system is bad.
Will they be shocked to see that the facts don't support their argument?
According to CSP ( the Court Statistics Project) civil filings were down again across the nation.
Now I am sure that the Governor of Mississippi, who recently filed papers in a federal case arguing that big business has to be protected, would claim here that, "Well, this is proof that limits work". Problem for him is that the numbers dropped in all jurisdictions. Even in the ones like Minnesota that protect consumers.
The reality is that the system works and it doesn't need Draconian measures like in Texas where they stole constitutional rights from the consumer. As Patricia Kilday Hart recently wrote:
In Texas, we're learning what happens when you can't turn to a lawyer for help. Two strong forces are making it nearly impossible to seek redress for injury in state courts: sweeping tort reform laws and a Texas Supreme Court with an activist conservative bent. The results aren't pretty.
The message and the facts needs to keep getting out there. There is no great civil justice problem, other than the doors being closed to those who have had rights stolen.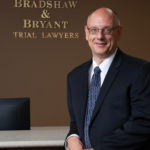 A founding partner with Bradshaw & Bryant, Mike Bryant has always fought to find justice for his clients—knowing that legal troubles, both personal injury and criminal, can be devastating for a family. Voted a Top 40 Personal Injury "Super Lawyer"  multiple years, Mr. Bryant has also been voted one of the Top 100 Minnesota  "Super Lawyers" four times.