Earlier this year, an Anoka laboratory was heavily scrutinized regarding its urine testing in DUI cases. There was a "miscalculation of the alcohol concentrations." Questions have continued to arise with Minnesota's practice of "first void urine testing." Minnesota is the only state to employ the first void method. Fewer than twelve other states utilize a second void or combination urine testing while the other states simply do not offer urine testing as a valid measure of blood alcohol concentration.
As the St Cloud Times reported:
Using only a first-void sample creates the possibility that alcohol will pool in the bladder if a drinker doesn't urinate for a long enough period. That could create a higher alcohol concentration in urine than in the same person's blood, he said.

And if the driver had begun drinking just before being stopped, there could be a higher alcohol concentration in their blood than in their urine.
Inaccurate urine test results could result in severe consequences for individuals charged with a DUI. An individual could be sentenced to increased jail time and higher fines if the urine test did not yield accurate results. Under some circumstances, an individual may be charged with a felony and risk going to prison. Enhanced civil penalties for a DUI include forfeited driver's licenses, license plates, and even vehicles in some cases. Simply being charged with a serious DUI requires a mandatory $12,000.00 in bail and/or jail penalties.
Considering the continuing litigation involving the use of the Intoxilyzer 5000 breath testing machine only substantiates the need for people charged with a DUI to contact an experienced criminal law attorney.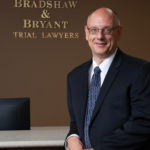 A founding partner with Bradshaw & Bryant, Mike Bryant has always fought to find justice for his clients—knowing that legal troubles, both personal injury and criminal, can be devastating for a family. Voted a Top 40 Personal Injury "Super Lawyer"  multiple years, Mr. Bryant has also been voted one of the Top 100 Minnesota  "Super Lawyers" four times.