It depends. They spend millions of dollars on campaigns to take away the constitutional rights of the average person to seek justice. They regularly send out emails, produce commercials, and mass mail their slanted stories in their continual attack on the civil justice system. They even created bogus polls so that they could tweet that X number of people are against lawsuits.
So recently, a group called the Yes Men decided to spoof them. The group crated a phony U S Chamber Press Conference to announce that the group was changing their position on global warming. A number of news organizations covered it as a real story.
What does the U S Chamber do? The sued the Yes Men for the misappropriation of the U S Chamber's intellectual property for personal financial gain. They are requesting injunctive relief, money, and even attorney fees.
As an attorney who sues on behalf of those who are injured, I will not question the Chamber's right to seek their own relief. It just seems at odds with their own propaganda. Although, as I have pointed out in the past, the reality is that they really want the court rooms for themselves. They want tort reform protection so that they and their big business members can duck personal responsibility. They want hand outs. They most of all want open courthouses so they can sue everyone else.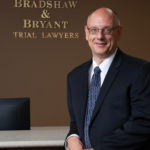 A founding partner with Bradshaw & Bryant, Mike Bryant has always fought to find justice for his clients—knowing that legal troubles, both personal injury and criminal, can be devastating for a family. Voted a Top 40 Personal Injury "Super Lawyer"  multiple years, Mr. Bryant has also been voted one of the Top 100 Minnesota  "Super Lawyers" four times.