I would guess about 25% of the blogs I read are legal writers or issues.  They are sometimes in the field we practice  and other times just interesting legal stuff.  Here are some recent ones I found interesting:
–  The Lawbog from the Wall Street  Journal reported that the Republican Governors Association Ad Draws Rebuke from ABA.   The American Bar Association, which isn't always that plaintiff ordinate:
In a letter to Mr. Christie on Friday, ABA President James R. Silkenat described the ad as a "disturbing" smear of the legal profession.

"It's a fact. Trial lawyer Vincent Sheheen made money off criminals," says the 30-second spot, which attacks Mr. Sheheen for representing a sex offender and domestic abusers and other defendants convicted of violent crimes.

"The Republican Governors Association ad sends a disturbing message to lawyers — that their clients' past actions or beliefs will stain their own careers, especially if they want to serve their country in public office,"
This really is a great step by the ABA, which I am sure had to clear a number of political hurdles to carry this out.  However,  it is for all the right reasons and takes the right position no matter those involved.   Now, there will be those who will  like the attack more since lawyers don't like it,  but I would bet that many of those same people believe strongly in the Constitution  (do they get to the 7th amendment?), want the best representative they can have when they hire someone,    and want to protect their own rights.   Bravo ABA for  standing up for what is right.
– Minnesota Family Law Issues  gives us that regular reminder that in a trial make sure the judge has a copy of important documents.
–  The New York Personal Injury Blog  from Eric Turkewitz  takes a look at one of my favorite issues with: Judicial Hellholes (About That Motherf*ckin' Post…). It is the annual list of garbage that comes out of the American Tort Reform Foundation, which as Eric writes :
No, it isn't an empirical study. They simply interview attorneys for corporations and ask them which places they wouldn't want to be sued in.

But you wouldn't know that by the way the press annually covers the report as if it was a real study. Let's face it, many members of the press are lazy and simply refashion press releases into articles.

You want a judicial hellhole? Then look at potential jurors who aren't even interested in the facts, as they have already decided that the cause of the problem is not what caused the injury, but the lawyer who sought the justice.
– While not writing a legal blog, Seth Godin gets into the legal issues surrounding privacy with :  What happens to privacy?   The blog covers both present concerns with what we give up to our credit card companies and what we are going to be looking at in the future.
Then to wrap things up, how about:  This Is What Happens When You Drive Like an Asshole
I do have concerns about the video work and the attention of all the drivers in this one.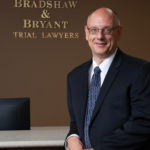 A founding partner with Bradshaw & Bryant, Mike Bryant has always fought to find justice for his clients—knowing that legal troubles, both personal injury and criminal, can be devastating for a family. Voted a Top 40 Personal Injury "Super Lawyer"  multiple years, Mr. Bryant has also been voted one of the Top 100 Minnesota  "Super Lawyers" four times.