CBS Sports had a very interesting article that had ten things that the NFL could do to cut down on concussions:
1. Hire more concussion monitors. Assign three concussion monitors per game, one in the booth, and two on the field (one for each sideline). These three monitors would look for a player who exhibits signs of a concussion and they would be independent from team medical staff. The monitors would be given independent authority to call a timeout and have a player examined.

The NFL has a human concussion monitor in the press box, and an electronic video monitor so medical staff can review a big hit, but we want three separate human monitors at all games. And they make the final call on concussions.

2. If a flagrant hit leads to a concussion and missed time by a player, then the offending player must sit out the same number of games as the injured one misses. This is simple fairness, and of all the proposals, might be the most immediately effective.

3. Increase mental health resources to players. This would include a stronger and more publicized suicide prevention hotline and mandatory counseling sessions with a licensed therapist when a player retires. The latter would help players who have difficulty transitioning from the NFL to normal life.

4. Remove face masks. No facemask would mean chances of huge, illegal hits would drop to almost zero. Players wouldn't risk turning their faces to Swiss cheese.

5. Test for HGH. No performance enhancers, less chance players grow to 400 pounds and hit each other with atomic force.

6. Do what the Nevada State Athletic Commission requires for professional boxers and MMA fighters. They must have a one-time MRI of the brain without contrast and an MRA of cerebral circulation. It can be done at the combine.

7. No 18-game schedule and consider the impossible: going back to a 14-game schedule. Simple math. Fewer games, fewer hits. There should also be just two preseason games.

8. Find ways to keep retired players connected to the game. Perhaps give them access to team workout facilities or incorporate them into programs such as NFL Play 60. Keeping retired players fit will go a long way in battling the depression brought on by concussion-related injuries. It will also help current players see exactly what the game does to the human body long-term. Many older retired players I've met have serious limps, memory loss and financial issues. This will remind current players like, say, White that they must protect futures they cannot see yet.

9. No one from the NFL, NFL Network or in any media should profit from big hits by selling videos or other merchandise of them. Self-explanatory. A league can't preach about safety while profiting from unsafe hits. The league is doing this, but must make sure there is no relapse.

10. A more comprehensive and publicized whistleblower line. The union has one, but it's mostly utilized for players to complain when teams violate NFL practice rules. There could be something more comprehensive, which could address almost any infraction, including what happened with bounties and the New Orleans Saints.
There are a number of great ideas here. The best thing about the list is that it combines ideas for future players, present players, and thosewho have already been injured. It is imperative that for everything that is done to prevent concussions, the league do everything that it can to help those who have already been injured.
The list also has a number of items that will cost money. More officials, less games, and rules against profits won't be something that those who only care about the money will like, but will be a clear sign that the powers are serious about fixing what looks to be a horrible problem.
The one I found most interesting is number 4 and the idea of getting rid of face masks. Looking at this one and the testing for HGH (number 5), you will be taking some of the violence that many fans want out of the game. It could very possibly harm attendance and be supported by many of those who really don't care much about the game.
But, again the real question is whether they really want to prevent some of the devastating results that now seem to be clear with retired players. The hits are violent and the bigger athletes are causing substantial damage.
Others here at the Injuryboard have also looked at this issue:
Heads Up: Athlete Concussions May Lead to Serious Traumatic Brain Injuries,Mark Bello | September 01, 2010 11:57 AM
Link to NFL Concussion Poster, Michael Phelan | August 26, 2010 5:17 PM
NFL Concussion Poster A Must For All Locker Rooms, Michael Phelan | July 28, 2010 3:03 PM
Concussions in kids and teens, Melissa Landau | June 17, 2009 10:48 AM
US Lacrosse Confronts Concussion Epidemic, Michael Phelan | November 07, 2007 8:55 AM
There is still a lot that we don't know about concussions and brain injuries. The key will be what we do with what we do know.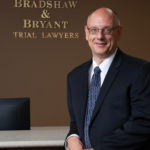 A founding partner with Bradshaw & Bryant, Mike Bryant has always fought to find justice for his clients—knowing that legal troubles, both personal injury and criminal, can be devastating for a family. Voted a Top 40 Personal Injury "Super Lawyer"  multiple years, Mr. Bryant has also been voted one of the Top 100 Minnesota  "Super Lawyers" four times.